Venue Information
MDM 2015 will be held between 15 and 18 June 2015 in the Wyndham Grand Pittsburgh Downtown
600 Commonwealth Place Pittsburgh, PA 15222 US. Phone: 1-412-391-4600
Located in Pittsburgh's Cultural District
712 deluxe guest rooms
60,000 sq ft of meeting space
Complimentary wireless in all spaces
Restaurant/Bar/Wine bar on premises
Fitness Center/Whirlpool on-site
Valet Parking
Guest Rooms $149 , free high-speed Internet
MDM special rate from Wyndham hotel
To get special rate from Wyndham hotel, make reservations via one of the two following ways:
make reservation online by following this link: https://aws.passkey.com/g/45657120
call toll free number, 1-888-317-0197, or the hotel direct line, 1-412-391-4600 and mention University of Pittsburgh – School of Information Sciences.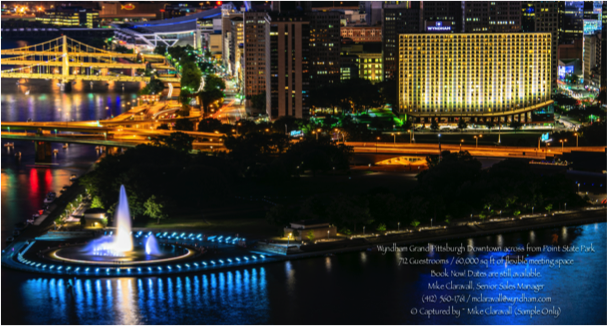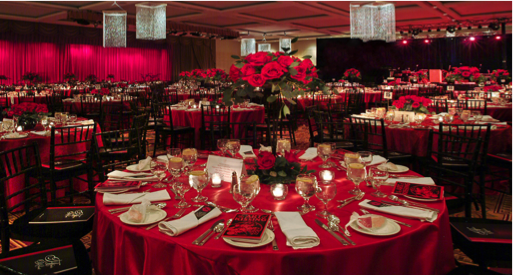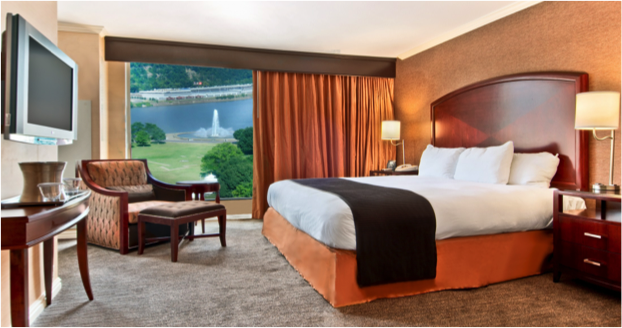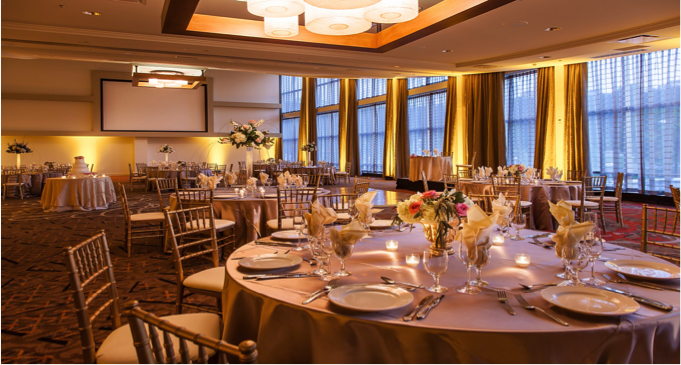 Visit our Facebook and Twitter to connect with other MDM participants and discuss any issues related to travel, room sharing, etc.
How to get to Pittsburgh
Pittsburgh is within 500 miles of more than half the U.S. population and less than a 90-minute flight from 50% of North America's population. It's under 6 hours by car or train to 9 states, D.C. and Canada:
| City | Distance | Flight time | Drive time |
| --- | --- | --- | --- |
| Baltimore | 218 miles | 1 hour | 4.5 hours |
| Washington, DC | 221 miles | 1 hour | 5 hours |
| Philadelphia | 295 miles | 1 hour | 6 hours |
| New York | 368 miles | 1.25 hours | 7 hours |
| Chicago | 420 miles | 1.5 hours | 8 hours |
| Toronto | 324 miles | 1.25 hours | 6 hours |
Daily Train Service between Pittsburgh and Chicago, Washington DC, Philadelphia, New York City.
How to get to the Wyndham Grand Pittsburgh Downtown
From Airport:
Taxi Service: Approximately $50

28X Airport Flyer Bus

$3.75 (Get on the bus at Pgh Internl Airport Lower Level (Door 6) then get off the bus on Liberty Ave at Gateway #4 and walk for 3 minutes. Click "More Options" on the map below to get more details.)

Private Car Service: $65 - $70
Shuttle Service (for example, Super Shuttle): Approximately $35 one way per person Shuttle service is available 24 hours - an appointment is needed after 6:00 p.m. Shuttle reservations must be made 6 - 12 hours in advance
From Train station:
Several Bus/On-Foot options avaialbe. See the map below. Click on "More Options" to get more details.

From Megabus/Greyhound bus stations:
From Greyhound bus stop

From Megabus bus stop

About Pittsburgh
Facts about Pittsburgh:
Easily accessible by air and car. Easy to navigate – convenient mass transit!
Home to 25 colleges and universities including Pitt and Carnegie Mellon University!
Ranked #1 Most Livable City in America by Places Rated Almanac
Named Top City for Geeks by Wired magazine
Ranked one of the top 13 travel destinations for 2008 by Frommer's
Ranked among the top 10 of the World's Cleanest Cities by Forbes magazine
Carnegie Museum named one of the best places to see dinosaurs by the Discovery Channel and Forbes Magazine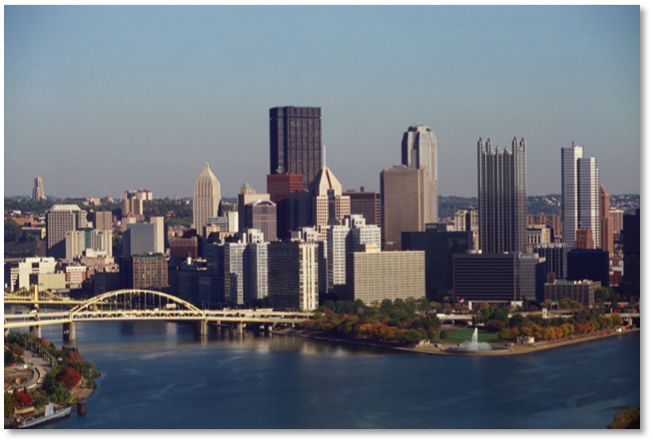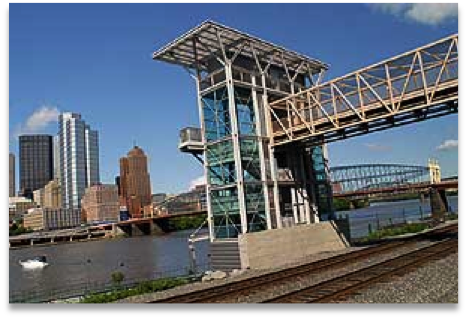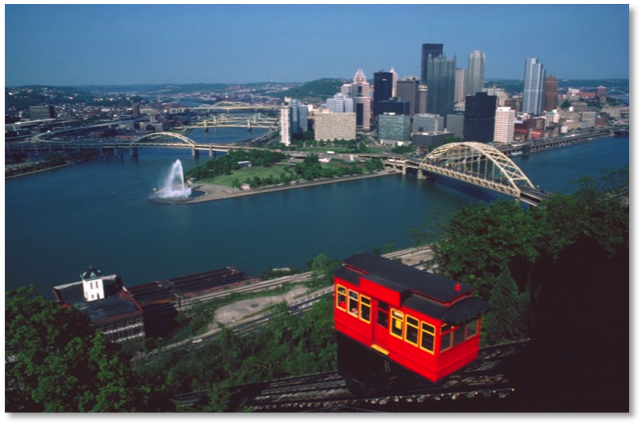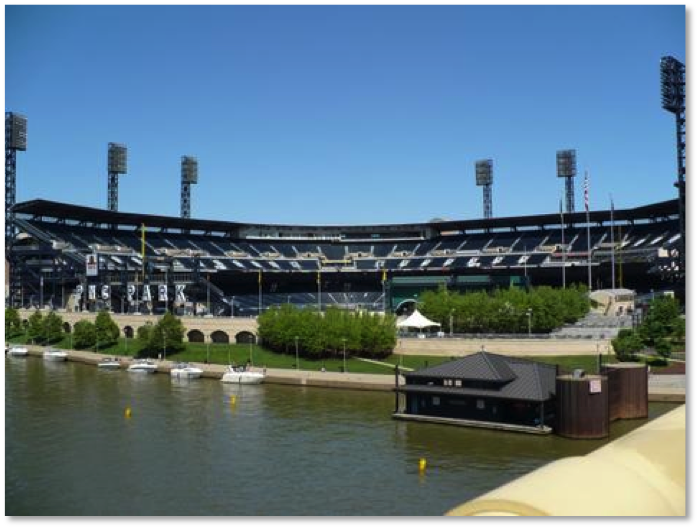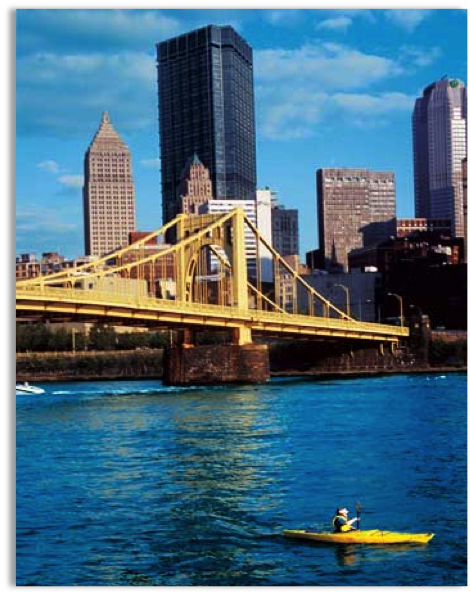 Average daily temperatures range from 58F (15C) to 79F (26C) degrees.
Three Rivers Arts Festival – ten days of visual arts, performing arts and fun! Headline acts in Point State Park and more than 100 artists will line the streets.
Baseball is hot – an average of 15 home games for the Pittsburgh Pirates! Riverfront stadium and America's Pastime – can't be beat!
Downtown Pittsburgh has free subway service and is home for more than 50 restaurants. Cultural District is home to three theatres, a cabaret theatre, nine art galleries, and more than 27 bars/cafés. While in Pittsburgh you can visit:
Carnegie Museums of Pittsburgh
Pittsburgh Pirates
Three Rivers Arts Festival
Pittsburgh Symphony Pops
The Pittsburgh Children's Museum
The National Aviary
The Andy Warhol Museum
Gateway Riverboat Cruises (dinner and dance)
Phipps Conservatory
Frank Lloyd Wright's Fallingwater
Pittsburgh Zoo & PPG Aquarium
Niagra Falls (3.5 hours)
More than 38 miles of river-front trails for biking and hiking
Rivers Casino
Higher Education Institutions
As Pittsburgh and Pennsylvania are home to so many colleges and universities, academic conferences draw a large number of faculty and students! The following universities can be accessed within a 6 hour drive:
University of Pittsburgh
Carnegie Mellon University
Pennsylvania State University
Drexel University
University of Pennsylvania
Ohio State University
Case Western Reserve University
University of Michigan, Ann Arbor
University of Maryland College Park
SUNY
Johns Hopkins University
George Washington University
George Mason University
University of Pittsburgh
Your MDM 2015 Conference Host provides dedicated staff support for local conference management. University of Pittsburgh:
Ranked in top 20 public universities.
Placed in the top cluster of 7 leading U.S. public research universities.
Research expenditures over $430 million a year for biomedical and health science research alone.
The tallest educational building in the Western Hemisphere.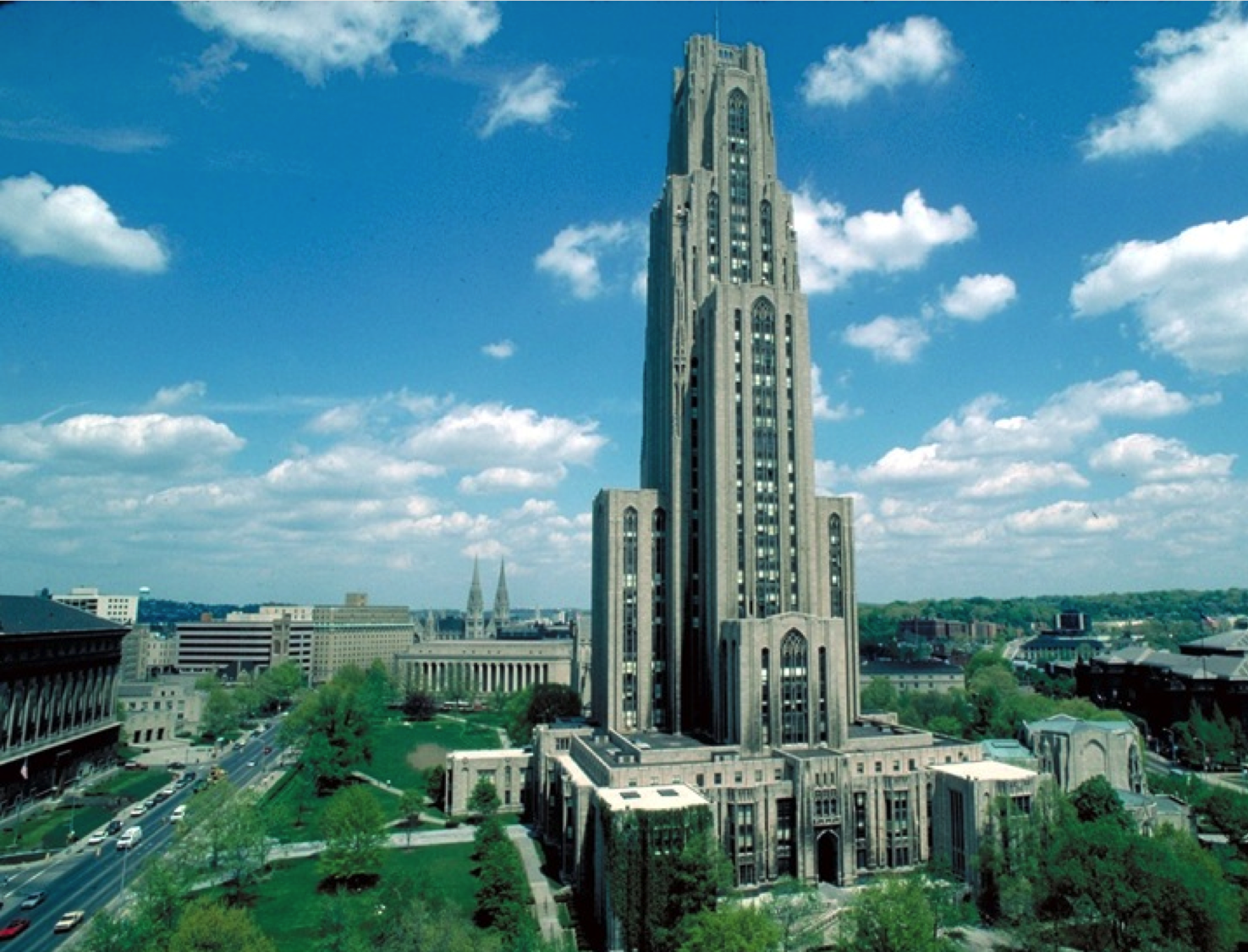 Usefull links
26 Ways Pittsburgh Ruins You For Life (26 beautiful palces in people you should visit).
26 Rankings That Prove Pittsburgh is Better Than Every Other City
visitpittburgh (official tourism promotion agency for Allegheny County)
Things to do in Pittsbrugh